The 130701 Transcendentalists tour features three stars of the so-called 'post-classical' scene, Jóhann Jóhannsson, Dustin O'Halloran and Hauschka. Ahead of their performance together at the RNCM next Monday, we caught up with Hauschka, the German prepared pianist and composer also known as Volker Bertelmann…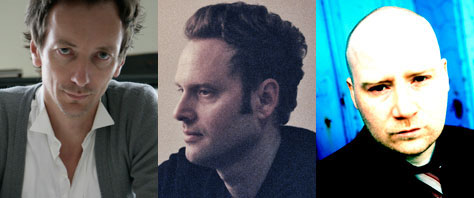 Hey Volker, what are you doing today?
I am in the airport of Brussels answering your questions and traveling to London. On tour there is a kind of routine, which means you are having every day load in, soundcheck and concert, and in between those dates you have to get some how some rest and food. It sounds horrible but it is somehow a form of meditation if your energy is mainly concentrating on the performance.
The eight-date Transcendentalists tour began earlier this week. Have you been involved in this kind of tour before? Are you looking forward to it?
I am touring a lot and I did with one of my previous bands a long four-weeks tour in a bus. But I have never toured before with three artist that I like and where we have equal sets. Of course I am looking forward to every show, plus I have a great collaborator with me. Samuli Kosminen is a wonderful drummer and a friend and we have so much playing together.
Last August, Oklahoma's Other Lives produced Tamer Animals, one of our favourite albums of the year. They also blew away audiences at the Deaf Institute twice, and have recently finished touring the US with Radiohead. Ahead of their appearance at Academy 3 this Thursday, 5 April, we caught up with the band to ask about Liz Green, The Magnetic North, Steve Reich and parking meters…
This is your third visit to Manchester in quick succession. Have you managed to see anything besides the inside of the Deaf Institute? And are you looking forward to a change of scene?
Unfortunately, we haven't been able to explore Manchester yet – it's usually in and out for us. The Deaf Institute is actually pretty cozy, but we're always up for exploring when there's time.
We've been trying for ages to book Leeds' Paul Thomas Saunders. His debut EP, last year's Lilac And Wisteria, was a big highlight for us, reminding of the warbling delights of Cocteau Twins and quite rightly featuring in our end-of-year list. Ahead of his appearance on our stage at Sounds From The Other City on Sunday 6 May, we caught up with Paul…
You're playing this year's Sounds From The Other City in May. For the uninitiated, what can people expect from your show, and your music?
I'll be playing the show with my live band The Fever Dreams. We all look fairly malnourished but together we can make quite a concordant racket. As for my music in general, an old friend of mine who writes for a blog recently used the phrase 'Snore-core'. While he wielded it in the most derogatory of ways, I actually quite like it, and it's quite fitting. Perhaps I'll start a scene.
From supporting Steve Earle at the Bridgewater Hall to playing the Kings Arms for us a couple of years ago, American singer-songwriter Joe Pug already has links to our fair city. Ahead of his headline debut here – an intimate, likely sell-out show at the Castle next month – we caught up with Joe to ask a few important questions…
Hey Joe, what are you up to right now?
Eating egg tacos.
You've visited Manchester a couple of times already. What do you know of the city?
I'm a devoted fan of Abraham Lincoln's life. His connection to your city has always struck me as beautiful. That an American president would directly appeal not to a foreign government, but a foreign people, that seems unprecedented and, given the current state of global politics, unrepeatable.
Oh… and the Curry Mile. That's my jam.
This year has been a great one at Hey! Manchester towers: we've promoted 48 gigs, helped organise two festivals – and listened to a whole heap of excellent records. Here are our favourites…
Destroyer – Kaputt. A firm fixture since its release in June, and we see it's getting the kind of recognition it deserves. Hopefully next year we might get a chance to see Destroyer live.
King Creosote & Jon Hopkins – Diamond Mine. The best thing King Creosote has recorded so far? We think so.
Metronomy – The English Riviera. Twelve tracks of pop fun.
Bon Iver – Bon Iver. Back-to-back great albums now. Let's hope he doesn't develop a taste for world music, like Iron & Wine.
Wild Beasts – Smother. Not quite at the same level as Two Dancers, but a grower of a follow-up.
Other Lives – Tamer Animals. Much more subtle than their live show. One of the best new bands we've heard this year.
Josh T Pearson – Last of the Country Gentlemen. A great late-night records, in the spirit of early Low.
M83 – Hurry Up, We're Dreaming. Possibly the band's break-through album. Looking forward to hearing it live.
Beirut – The Rip Tide. A majestic return to form from Zach Condon and band.
Tune-Yards – W H O K I L L. Not a patch on her live show, but still one of the best albums of this year.
Yuck – Yuck. Featuring classic songwriting in the vein of Teenage Fanclub and Dinosaur Jr.
We've also been enjoying a few excellent EPs this year…
Grouplove – Grouplove. Full of energy and fun.
Paul Thomas Saunders – Lilac and Wisteria. The perfect hazy morning soundtrack.
Jens Lekman – An Argument with Myself. A playful return after a four-year absence.
And there are a few albums from last year that have continued to be on heavy rotation throughout 2011…
Villagers – Becoming a Jackal
Twin Shadow – Forget
The Radio Dept. – Clinging to a Scheme
Allo Darlin' – Allo Darlin'
Hot Chip – One Life Stand
If you like the sound of any/all of that lot, give them a try on our handy Hey! Manchester best of 2011 Spotify playlist.